RPL's Engineering Apprentices strike GOLD in World Skills UK competition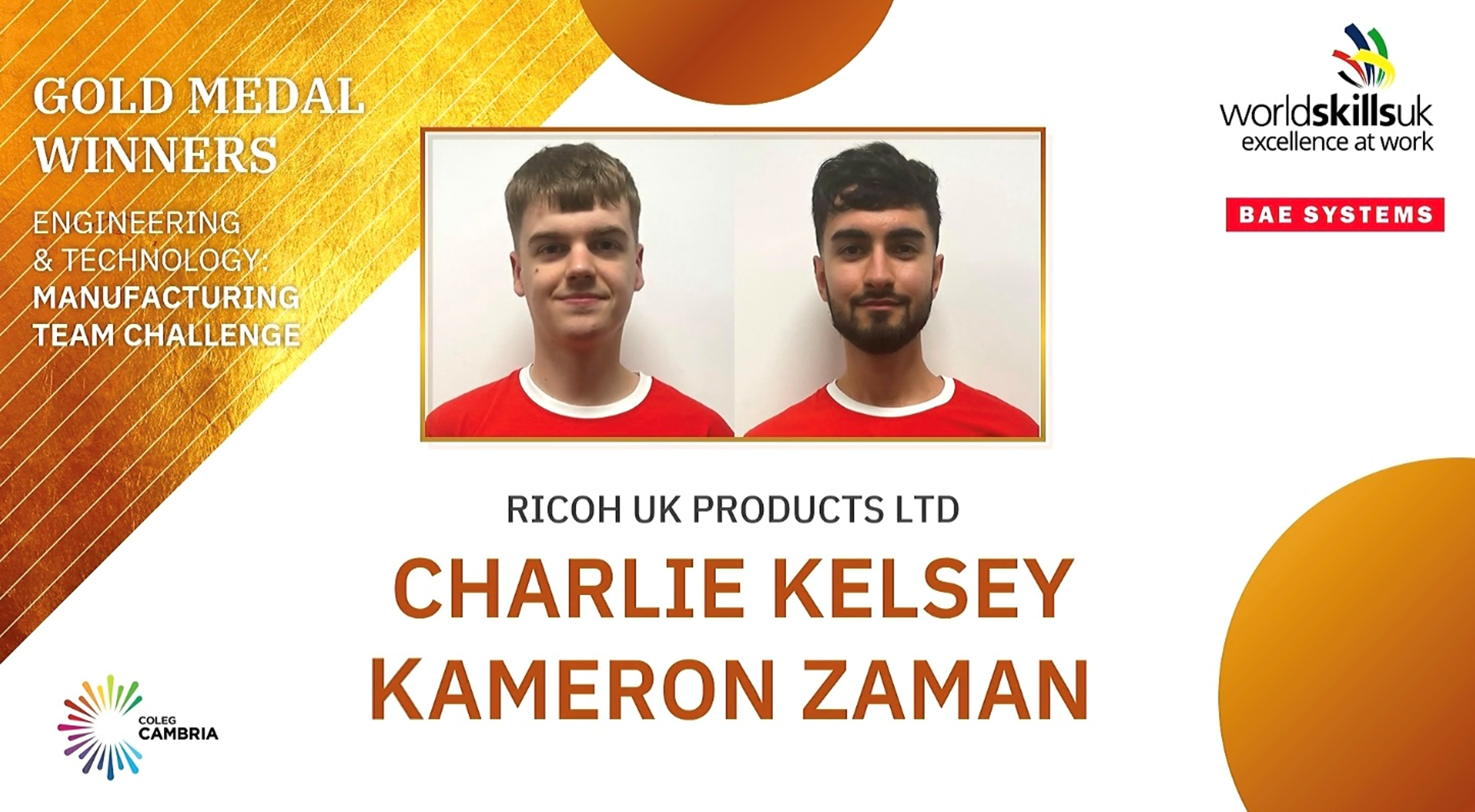 Ricoh UK Products Limited's (RPL) Engineering apprentices, Charlie Kelsey and Kameron Zaman have won a gold medal in the prestigious, annual World Skills UK 'Manufacturing Team Challenge' in the 2022 National Finals in Blackpool.
World Skills UK is an independent charity and a partnership between employers, educators and governments. The charity uses international best practice to raise standards in apprenticeships and technical education so more young people and employers succeed.
The Manufacturing Team Challenge brings together a team of complementary specialists that could include project management, electronics, programming, machining, and computer aided design.
The competition, one of many 'upskilling' competitions available to young people, took place from 16-18 November, and the results were announced in a live online medal ceremony on the eve of 25 November.
Congratulations Charlie and Kameron!
The apprentices, who work at RPL and study at Shrewsbury Colleges Group (SCG), received a competition brief earlier this year, titled 'Marble Madness', whereby participating teams from across the UK had to design, manufacture and program a robust machine which could pick up and transport up to 1,000 8mm diameter magnetic balls within a 10-minute time frame, using no form of magnetism.
However, this was not the only challenge that the duo would experience. During the Finals in Blackpool – a three-day competition, teams endured 'surprise challenges' testing their wider engineering skills, all of which contributed to gaining points in the leaderboard. 
Examples included a navigational obstacle course including ramps and turns, in addition to welding and electronics tests. During the Final itself, the duo had to face a multidisciplinary testing round consisting of machine LCD functionality, rotation tests, aesthetic judging, as well as timed races and the overall challenge of collecting and transporting as many magnetic balls as possible.
Overall, with a number of 1st and 2nd place finishes, Charlie and Kameron were awarded the gold medal – an achievement which has been very highly commended by all at RPL and SCG.
RPL's Learning & Development Officer, Claire Shepherd commented: "Charlie and Kameron have worked really hard on their project and their teamworking skills have exemplified that of the RICOH Way Values. I'm especially impressed that they competed at the Finals as a team of two, as all other teams were in groups of three.
"They faced a number of challenges, some expected, some unexpected, always with a positive attitude, coming up with innovative solutions.
"Their passion for all things engineering, problem-solving and creativity has shone throughout their World Skills journey and all of their hard work has now been awarded with such a fantastic gold medal result! A huge congratulations on your achievement from all of your colleagues and educators here at RPL and Shrewsbury Colleges Group."
She added: "Also, a huge thank you to RPL's Mark Smith (Design & Development) for your fantastic mentorship and all of the help and support you provided to Charlie and Kameron during their World Skills journey, up to and including the competition days.
Said RPL's Senior Engineer (Design & Development) and Apprentice Mentor, Mark Smith: "As Claire mentioned, the pair were up against teams of three… Against the odds after the departure of a third member, Charlie and Kam made the choice to continue and compete at the Finals.
"Charlie and Kam, in recent weeks leading up to the competition, had been training on elements related to a 'craft' apprenticeship, despite their speciality being 'technical' based. Therefore, this extra and unfamiliar work undoubtedly added pressure… Nevertheless, they weren't deterred, and thanks to their efforts, hard work at RPL and extra training provided by Shrewsbury College, the team became proficient across the board.
"We often talk about what Ricoh values are demonstrated and, in this case, they certainly seemed to exhibit most of these: Passion, Innovation, Teamwork, Winning Spirit, Ethics and Integrity were all there throughout this journey and their fantastic result is their reward for doing such an amazing job."
Keith Hickman, RPL's Senior Production Maintenance Engineer also added: "Having experienced this competition in previous years (RPL now have a Bronze, Silver and 2 Gold medals in this competition), having just two members is a massive deficit to carry into the Finals. This is a three-person team competition and to achieve best in the UK status with only two is a huge achievement worthy of recognition.
"Having to become not only proficient in new areas such as welding, fabricating and machining, but able to compete at national level against others who have a specialist in their team – in such a short time – is quite unbelievable. Congratulations both!"
Further information about the World Skills UK 'Manufacturing Team Challenge' can be accessed here: https://www.worldskillsuk.org/competitions/manufacturing-team-challenge/
The Ricoh UK Products Limited (RPL) and Shrewsbury Colleges Group (SCG) apprenticeship partnership was formed in 2017 and allows apprentices to develop their practical skills and study towards academic qualifications whilst attending college, and then implement this learning on-the-job at RPL through involvement in workplace tasks and projects, whilst being supported by our dedicated mentors.
For more information about apprenticeships at RPL, visit:
https://ukproducts.ricoh.com/careers/apprentice-programme
For more information about apprenticeships at SCG, visit:
https://www.scg.ac.uk/apprenticeships