RPL's 'caver' wins Ricoh Digital Products 'Contribution to Society' Award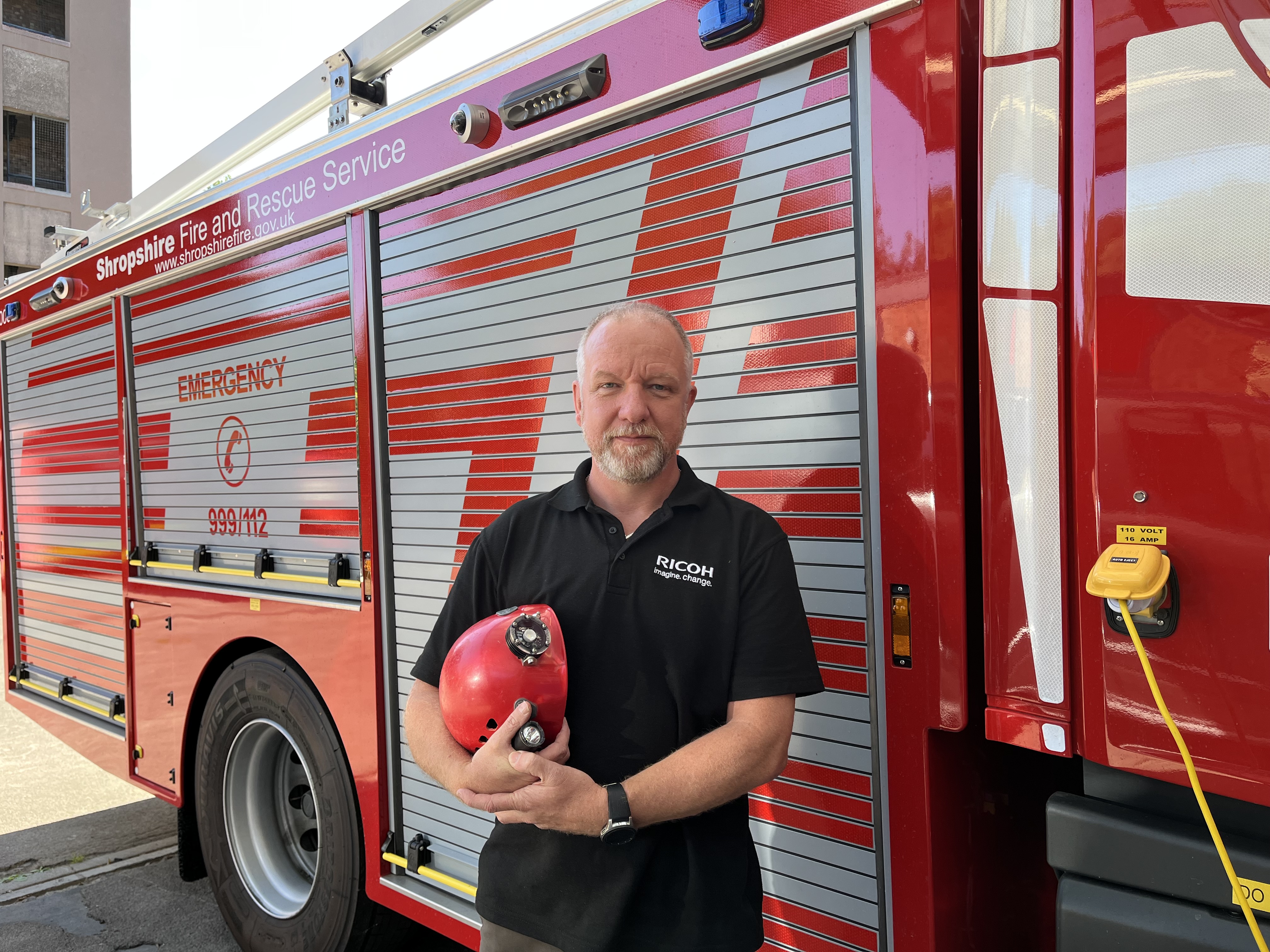 It has been announced that Graham Smith of Ricoh UK Products Limited (RPL) has won the Ricoh Digital Products 'Contribution to Society' Award in the global awards ceremony held on 2 September.
The accolade is part of The Ricoh Way Awards: We celebrate and reward our employees for exemplary service and innovation through the award, which recognises and praises both local and global levels those whose activities exemplify The Ricoh Way.
Graham, who is an Area Specialist Maintenance Engineer at RPL and has been at the company for 25 years said he was "lucky enough" to be given the Award as a result of a caving rescue mission, in South Wales, where a man was trapped in a cave for two days.
Fortunately, following in his Dad's footsteps – who set up the former Dudley Cave Rescue Team, Graham is a hugely experienced caver, having ventured with his Dad to local mines in Dudley from the age of 8, and caved around the country from the age of 16.
Graham has been a member of the Midlands Cave Rescue organisation for over 35 years, one of 16 voluntary rescue organisations dotted throughout the British Isles; and the prime role is to support the police with underground search and rescue activities, so cavers' expertise in such scenarios is unmatched
On 6 November 2021, there was a major caving incident declared in South Wales in a cave system called Ogof Fynnon Ddu, the deepest cave network in the UK, with parts at 275m below the surface. An experienced caver from a party of 3 had fallen in the vast cave network in the Brecon Beacons, after falling through a 'false floor' passage, as covering boulders collapsed. The gentleman had fallen around 8 metres into a narrow and restricted rift, sustaining serious and potentially life-threatening injuries.
Said Graham: "The first I was aware of the incident was when I received a phone call at home at about 3.00pm on the Saturday afternoon saying there had been a serious incident, which might take considerable time to sort.
"Various teams around the country, including ours, were put on standby and at about 6.00pm in the evening, we received a call to say our assistance would be required for the rescue mission."
262 rescuers were involved in the rescue in total, including Graham, who was first rostered underground at about 4.00am on Sunday morning – and again at 10.00am on the Monday morning, with a fresh party.
He commented: "The unfortunate part was that it was 45 minutes from where the accident was to the nearest entrance, but we had to take him out via the long route which was about 2.5 kilometres of hard caving, in an active streamway with lots of vertical pitches and lots of boulder chokes and constricted spaces to get him through.
"It was quite an emotional rollercoaster; he was seriously injured and the medics in the team had given him a lot of pain relief. In fact, I've never seen so many oxygen cylinders in my life being relayed through the cave."
Eventually, the team was able to bring the injured individual to safety at around 7.00pm on the Monday evening. The rescue mission took more than 53 hours, making it the longest cave rescue ever undertaken in Wales, according to BBC Wales.
Since the event, Graham was "proud and humbled" to have been nominated for The Ricoh Way 'Giving Back' Award at RPL – winning the Gold accolade, and subsequently won the Ricoh Digital Products 'Contribution to Society' Award.
Ryan Jones, a Multi-Skilled Maintenance Engineer at RPL who first nominated Graham for the local award, said: "It is important to recognise just how crucial the role performed by Graham and his peers is in deep cave systems. They are the emergency services and are the only people with the knowledge and experience to deal with this challenging environment.
"Without the volunteers and the skills being kept alive through continuous practice and training, lives would simply be lost in these events. Graham has demonstrated great social responsibility, teamwork and winning spirit of the highest degree to reach a successful conclusion."
Earlier this year, as part of the Platinum Jubilee celebrations for the Queen, nominated employees from RPL were invited to plant trees on-site in Telford, as part of the Queen's Green Canopy project, and Graham was chosen to take part following his heroics and contributions to society. Nationally, Graham also received a Platinum Jubilee Award from Her Majesty as a result of his volunteering activities.
By his own admission, he is a "repeat offender" … Back in 2018, Graham was a Ricoh Way Gold Award winner for his involvement in another cave rescue incident, where a junior Thai football team consisting of 12 players aged between 11 and 16, and their coach, unfortunately got trapped in the Tham Luang cave system. Graham was involved in working with the Thai embassy in London, helping to organise divers and necessary equipment onto flights to Thailand, and logistical operations from the UK. Again, thankfully, it was a successful rescue mission.
Reflecting on his cave rescue missions and the awards, Graham said: "Looking to the future, hopefully us cavers can enjoy a quieter period and hope everyone is able to stay safe. I'm proud and humbled to have won these awards, but as I have said before, teamwork is such a huge part of the successful outcomes of these missions.
"The dedication, expertise and winning spirit got us and the affected through! I think without everybody's commitment at the outset, both scenarios presented us with a potentially impossible challenge, but through ideas and pooling of knowledge and that skill and commitment to get the job done, we made it happen."
He added: "On the lighter side, there are transferable skills I have to make a difference at work… Whenever there is an awkward job in an awkward position in a tight hole such as the inside of machinery, or working at height, guess whose name comes to the forefront, like 'Oi Mr Smith, you'll fit in that hole!'"
Congratulations, Graham, from all at RPL!