9 new starters on RPL's apprenticeship programme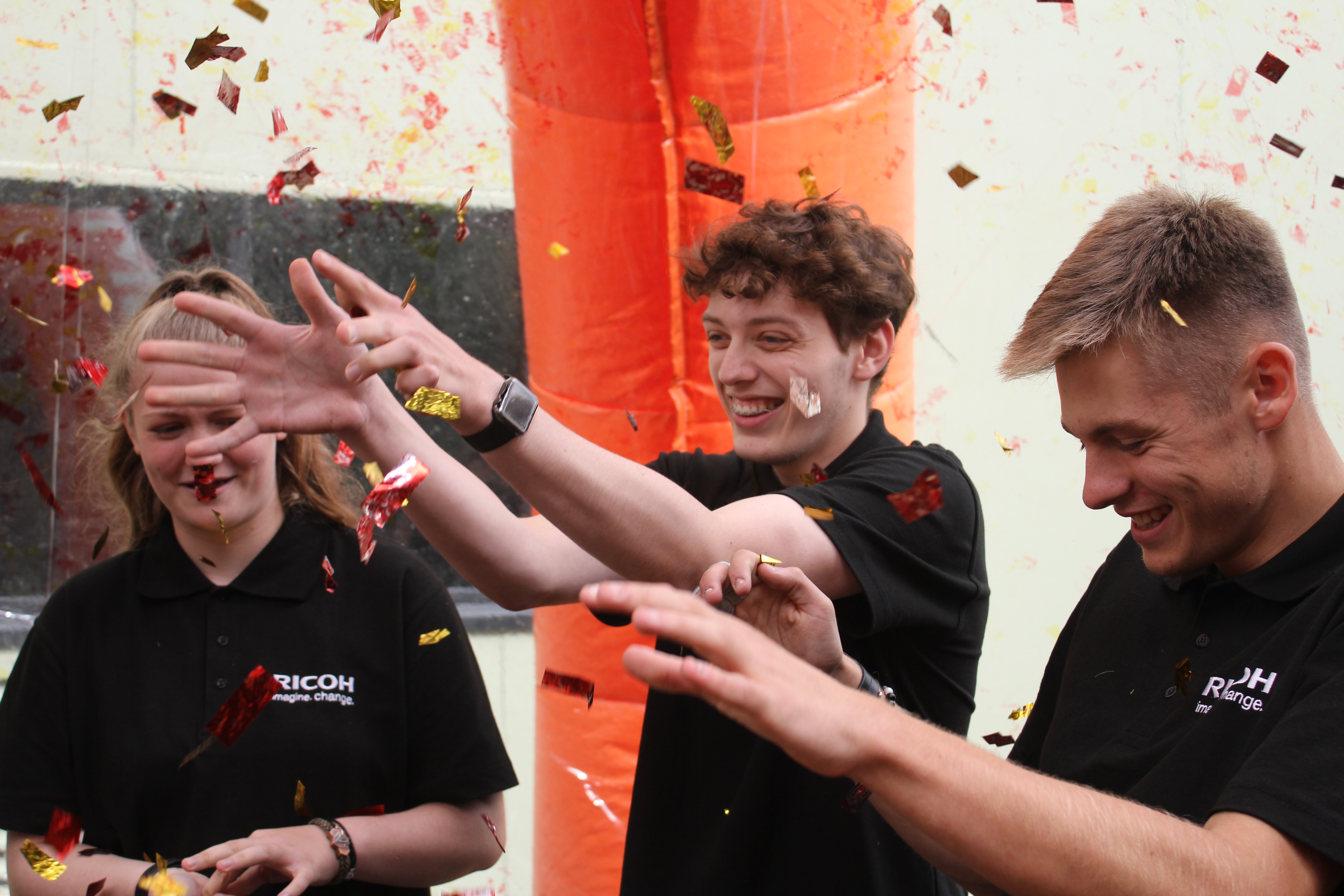 Last week, nine new starters joined Ricoh UK Products Limited's (RPL) highly successful and award-winning apprenticeship programme.
The established apprenticeship programme first launched in 1990 and is essential in ensuring that RPL has high-quality people working within the organisation.
The programme also ensures that apprentices can gain practical, industry workplace experience and achieve qualifications relevant to their desired career path, whilst earning a wage and learning a multitude of new skills.
This year, a number of the apprenticeships available are new to the business, including Moulding Engineering, Finance, Manufacturing Engineering (Degree) and Software Engineering (Degree).
A very warm welcome to:
·Eve Redden – Technical Engineering (Building Services)
·Kieran Rowley – Technical Engineering (Production Print Engineering)
·Kian Beasley – Craft Engineering (Production Maintenance)
·Joshua Wynne – Craft Engineering (Production Maintenance)
·Harrison Felton – Moulding Engineering (AM & Moulding Engineering)
·Jamie Chouhan – Finance (Finance Department)
·Cameron Buick – Manufacturing Engineering Degree (Toner Operations)
·Conor Petford – Software Engineering Degree (Digital Operations)
·Thomas Warren – Software Engineering Degree (Digital Operations)
The new cohort will develop knowledge and skills by working with several of RPL's key business areas whilst each being supported by a designated mentor, who guides them through their apprenticeship journey. Furthermore, they will benefit from a specialist learning provider to study towards academic qualifications to aid them in the workplace now and in the future.
Personal growth opportunities are ample too, and there is lots of factors RPL considers 'key' for its apprentices to succeed and reach their potential, such as workshops, health and safety, team building and community projects.
In fact, a key highlight of the new apprentices' induction week was 'The Krypton Maze' – a fun teambuilding event led by Team Building Solutions.
The event was a combinative indoor and outdoor session, based on two popular former television shows, The Krypton Factor and The Crystal Maze.
According to RPL's Learning and Development Officer, Claire Shepherd: "The apprentices, divided into two teams, faced a series of fun mental and physical purpose-built team challenges which they had to complete in order to gain crystals. These crystals 'bought' them time in the crystal dome, as part of a final challenge.
"The event comprised of activities designed to help the apprentices develop a number of transferable skills, including communication, leadership, decision making, time management, and of course – teamwork, just to name some.
"The morning was hugely successful and nicely rounded off the first week for our new apprentices. It was lovely to see so many managers, mentors and employees attending too, supporting RPL's latest recruits."
She added: "I look forward to working with our apprentices as they progress through their apprenticeship journey, it's fantastic to see such an array of new learners at RPL, across a variety of areas, and I am sure this will help us build our talent pipelines for the future!"
For more information about RPL's apprenticeship programme, click here.
Want to hear from former apprentices? Where are they now? Find out by clicking here.
| About Ricoh |
Ricoh is a leading provider of integrated digital services and print and imaging solutions designed to support digital transformation of workplaces, workspaces and optimize business performance.
Headquartered in Tokyo, Ricoh's global operation reaches customers in approximately 200 countries and regions, supported by cultivated knowledge, technologies, and organizational capabilities nurtured over its 85-year history. In the financial year ended March 2023, Ricoh Group had worldwide sales of 2,134 billion yen (approx. 16.0 billion USD).
It is Ricoh's mission and vision to empower individuals to find Fulfilment through Work by understanding and transforming how people work so we can unleash their potential and creativity to realize a sustainable future. 
For further information, please visit www.ricoh.com
© 2023 RICOH COMPANY, LTD. All rights reserved. All referenced product names are the trademarks of their respective companies.