RPLS Celebrates 50th Anniversary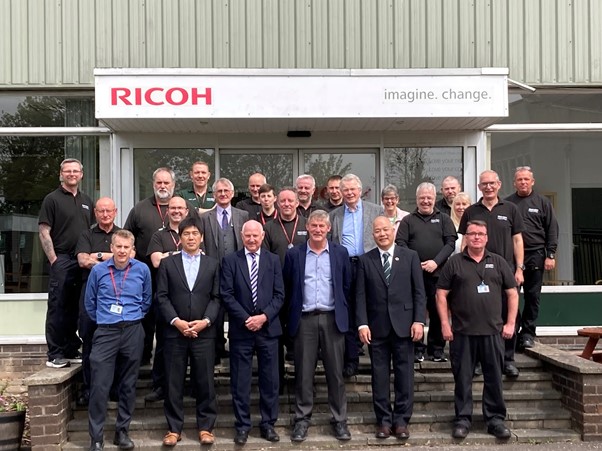 Last week, 17 May 2023, Ricoh UK Products Ltd (RPL) celebrated the 50th Anniversary of its operational plant at Stirling, otherwise known as RPLS.
The historic 'milestone' occasion was marked with a dedicated ceremony at the RPLS facility, with colleagues from RPL's Telford site (RPLT) in attendance too, including former Managing Director, Colin Weaver, newly starting Managing Director, Mikio Ishibashi, General Manager (Business Strategy Office), Tomoyasu Makino, and Executive Director & Company Secretary, Rod Baggott, as well as a number of former RPL employees.
In addition to a networking lunch, Colin Weaver was pleased to speak to the RPLS team about the history and growth of RPLS, as well as taking part in a celebratory tree-planting service with fellow management attendees.
Though the plant was not an integrated Business Unit at RPL until 2014, the Stirling site was first opened by The Duke of Edinburgh on 17 May 1973, which also involved the planting of a Rowan tree, which can be seen today when entering the site.
Today, RPLS manufactures supplies for the Ricoh range of Digital Duplicator Printers. Both digital masters (stencils) and digital inks are produced and sold globally within the Ricoh Family Group (RFG).
Together with RPL Telford, Stirling designs, develops and produces industrial inkjet inks. The latest line-up of inks, made with RPL's own dispersions, are designed for the flooring and decorative wall-covering markets and now include Ricoh's latest plant-based inks.
Industrial inkjet ink provides 'Fulfilment through Work' for digital wallpaper customers by releasing the imagination of designers to produce 'beyond the constraints' of analogue printing and providing a platform to react in real time to customers' requirements.
Furthermore, RPLS is positively contributing to Ricoh's commitment to the United Nations' Sustainable Development Goals (SDGs), as Digital Duplicator Printers typically use 60% less energy compared to other typical office equipment, providing printing with a low environmental footprint. Unlike digital wallpaper which is print-on demand, analogue wallpaper is produced in large volumes in advance, leading to high waste of unused material.
RPLS also ensures that all raw materials used meet the Ricoh Green Procurement Standard.
Looking ahead to the future of RPLS, Colin Weaver commented: "Change will not stop, and everyone will appreciate that the future – this is very difficult to predict, but what we do know is that we have invested in the latest digital ink manufacturing plant. Together, we are identifying new opportunities that have numerous industrial applications which we now need to exploit to ensure the dawn of the next 50 years starts with a host of new products.
"In the short to medium term, we will continue to produce high-quality, low-cost consumables for the digital duplicating business and continue to work hard to persuade and win other parts of this business within Ricoh, to secure our future."
He added: "Longer term, we must attract new business to the site as we have done successfully throughout our 50-year history.
"I congratulate and thank you all for getting us to this 50th anniversary. We must now pick up the baton and drive forward into the next 50 years. A huge thank you to all who have supported this journey." 
| About Ricoh |
Ricoh is a leading provider of integrated digital services and print and imaging solutions designed to support digital transformation of workplaces, workspaces and optimize business performance.
Headquartered in Tokyo, Ricoh's global operation reaches customers in approximately 200 countries and regions, supported by cultivated knowledge, technologies, and organizational capabilities nurtured over its 85-year history. In the financial year ended March 2023, Ricoh Group had worldwide sales of 2,134 billion yen (approx. 16.0 billion USD).
It is Ricoh's mission and vision to empower individuals to find Fulfilment through Work by understanding and transforming how people work so we can unleash their potential and creativity to realize a sustainable future. 
For further information, please visit www.ricoh.com
© 2023 RICOH COMPANY, LTD. All rights reserved. All referenced product names are the trademarks of their respective companies.