RPL's Becky Jones wins Shropshire FA Volunteer of the Year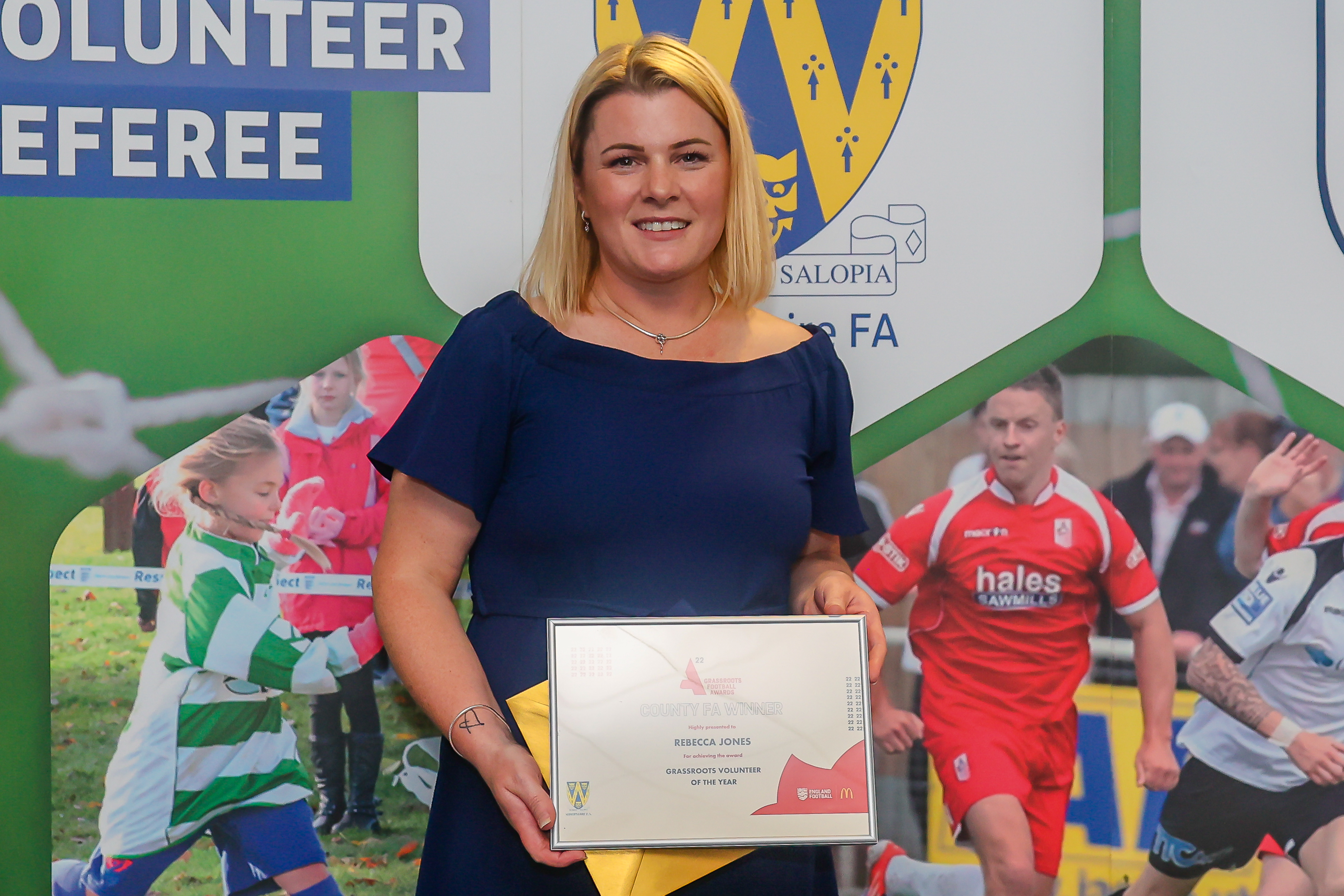 Last month, as part of the Ricoh Way Values Recognition Awards, Becky Jones, Senior HR Officer at Ricoh UK Products Limited (RPL), was presented with a bronze-level award in the 'Giving Back' category for her contributions to grassroots football.
The historic awards programme, which has taken numerous names and formats since 2002, today, comprises of four key categories: Ricoh Way Award, Star Supporter Award, Giving Back Award and Teamwork Award.
The Giving Back Award recognises good work which supports the community. According to RPL, the number of applicants and winners of the programme have grown each year, positively contributing to Ricoh's global corporate culture that recognises and respects all individuals. 
Following RPL's awards, outside of the workplace, it has been announced that Becky was also named Shropshire FA Volunteer of the Year based on her "extraordinary contributions" in the community.
Becky holds a number of volunteer roles within the grassroots football community, including Treasurer for the Shropshire Women's and Girls Football League and is Chairperson of Shrewsbury Up and Comers FC, overseeing 45 teams of boys, girls, and adults.  
As such, it has been recognised that Becky spends a significant amount of her spare time helping to develop girls' football in particular and supporting the local community to enable more people to play football. 
Becky has deservedly been recognised by the FA for the impact she has had on grassroots football in her community and her leadership and contributions during Covid, where, through her hard work and guidance, players, parents, coaches, and clubs were able to achieve a safe return to football.  
A Shropshire FA spokesperson said of Becky's nomination: "During the pandemic, the impact of this was significant to the mental and physical wellbeing of all the young people who play football."
Becky started her football journey as a referee at the age of 19 as there were no girls football teams around and at the time, she was only one of two female referees in Shropshire. 
Although Becky mainly officiated grassroots games, she also officiated several preliminary round Women's FA Cup games and the Ladies County Cup finals at Shrewsbury Town Football Club's now-former stadium, Gay Meadow.  However, her highlight was being 'called up' to officiate the Girls' England Schools Final at Coventry's Ricoh Arena.
After suffering a knee injury in 2004, Becky stopped refereeing and had a break from all things football until her eldest daughter, Izzy, decided at the age of seven, that she wanted to swap her dancing shoes for football boots. Soon after, Becky qualified as a football coach to help run her daughter's team – which in fact was a boys' team – but after just one season, Becky was keen to promote girls' football and she started the club's very first girls' team.  
She commented: "Growing up, football was not accessible to girls in the same way it was for boys.  Having four brothers, I loved to have a kick around and often used to have to bribe the boys in my street with sweets to let me play with them.  
"Refereeing was a way of being a part of football so when I had to stop to have knee surgery, I really missed it.  
"When my daughter started to show an interest in football, I was excited.  She started with a local boys' team, and they were struggling to get volunteers.  As much as I loved football, coaching was something different altogether, but I knew without enough my daughter and her teammates would not be able to play, so I took the plunge and the rest as they say, is history." 
Fast-forward eight years and Becky now has both her daughters playing football and spends most of her spare time at the side of a football pitch, or on the phone advising and guiding parents, coaches and clubs.  
Naturally, Becky is no stranger to the RPL football team either and has supported the team with refereeing but has also played alongside her Ricoh colleagues, enjoying two trips to the Ricoh Annual football tournament in Salou.  
Over the past few years in the UK, we have seen the profile of both women's football and women in football raised and substantial developments in The Women's Super League (officially known as the Barclays Women's Super League), which is the highest league of women's football in England.
Women's football has been in the spotlight most recently through the success of England's Lionesses, hosting and winning the 2022 UEFA European Women's Football Championship.
Becky added: "With the developments in women's football and the amazing achievement of the Lionesses in the UEFA Women's Euros 2022, I really hope this inspires more girls to try football." 
RPL was delighted to find out that Becky was awarded Shropshire FA Volunteer of the Year at a recent FA Awards ceremony. Congratulations, Becky! 
| About Ricoh |
Ricoh is a leading provider of integrated digital services and print and imaging solutions designed to support digital transformation of workplaces, workspaces and optimize business performance.
Headquartered in Tokyo, Ricoh's global operation reaches customers in approximately 200 countries and regions, supported by cultivated knowledge, technologies, and organizational capabilities nurtured over its 85-year history. In the financial year ended March 2023, Ricoh Group had worldwide sales of 2,134 billion yen (approx. 16.0 billion USD).
It is Ricoh's mission and vision to empower individuals to find Fulfilment through Work by understanding and transforming how people work so we can unleash their potential and creativity to realize a sustainable future. 
For further information, please visit www.ricoh.com
© 2023 RICOH COMPANY, LTD. All rights reserved. All referenced product names are the trademarks of their respective companies.