RPL retains GOLD Investors in People accreditation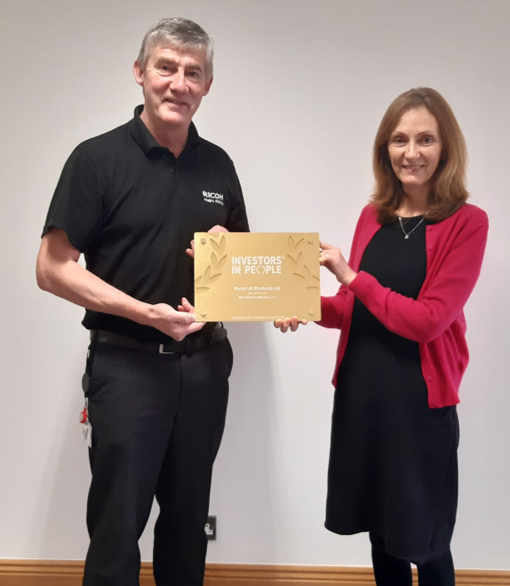 Ricoh UK Products Ltd (RPL) is delighted to announce that it has retained its GOLD accreditation status from Investors in People.
Investors in People is a professional framework to measure organisations' workplace cultures, specifically in areas around employee engagement, communication, organisational culture and work practices. 
By their own admission, "Investors in People has been making work better for organisations across the world since 1991. Since then, we've worked in 66 countries, making work better for over 11 million people worldwide."
RPL has been repeatedly assessed against this framework since 2008.
In 2022, RPL undertook its latest 3-yearly assessment and following a recent communication from IIP, RPL is proud to share that it has retained its GOLD accreditation status, making further improvements from previous assessments too.
The assessment process consisted of a company-wide survey and number of interviews, as well as the submission of supporting evidence. Highlights of feedback that the assessor shared included:
"People are clearly at the heart of the business; you have been able to develop a strong and engaging working culture which people enjoy being a part of and which they find to be conducive and personally rewarding.
"Without exception, during interviews people said that the company is 'great' to work for.  They said they like the people they work with and how the company treats them. Working relationships between management and employees are very productive and built upon honesty, openness and constructive feedback."
Opportunities for further improvement were also shared and these will be included as part of the development of Ricoh's 21st Mid-Term Strategy (MTS), alongside RPL's Employee Engagement Results and feedback from the business' Irresistible Organisation Focus Groups.
RPL's Transformation & Engagement Manager, Charlotte Dickerson commented: "Thank you to everyone who contributed to the assessment, as we strive towards our vision of becoming an Irresistible Organisation."
RPL strives to be a Truly Irresistible Organisation for employee engagement, attracting and retaining highly talented people and maximising all of our People Talent. Visit the RPL website to find out more: https://ukproducts.ricoh.com/careers/why-work-for-us