RPL enjoys Coffee Morning in aid of Macmillan Cancer Support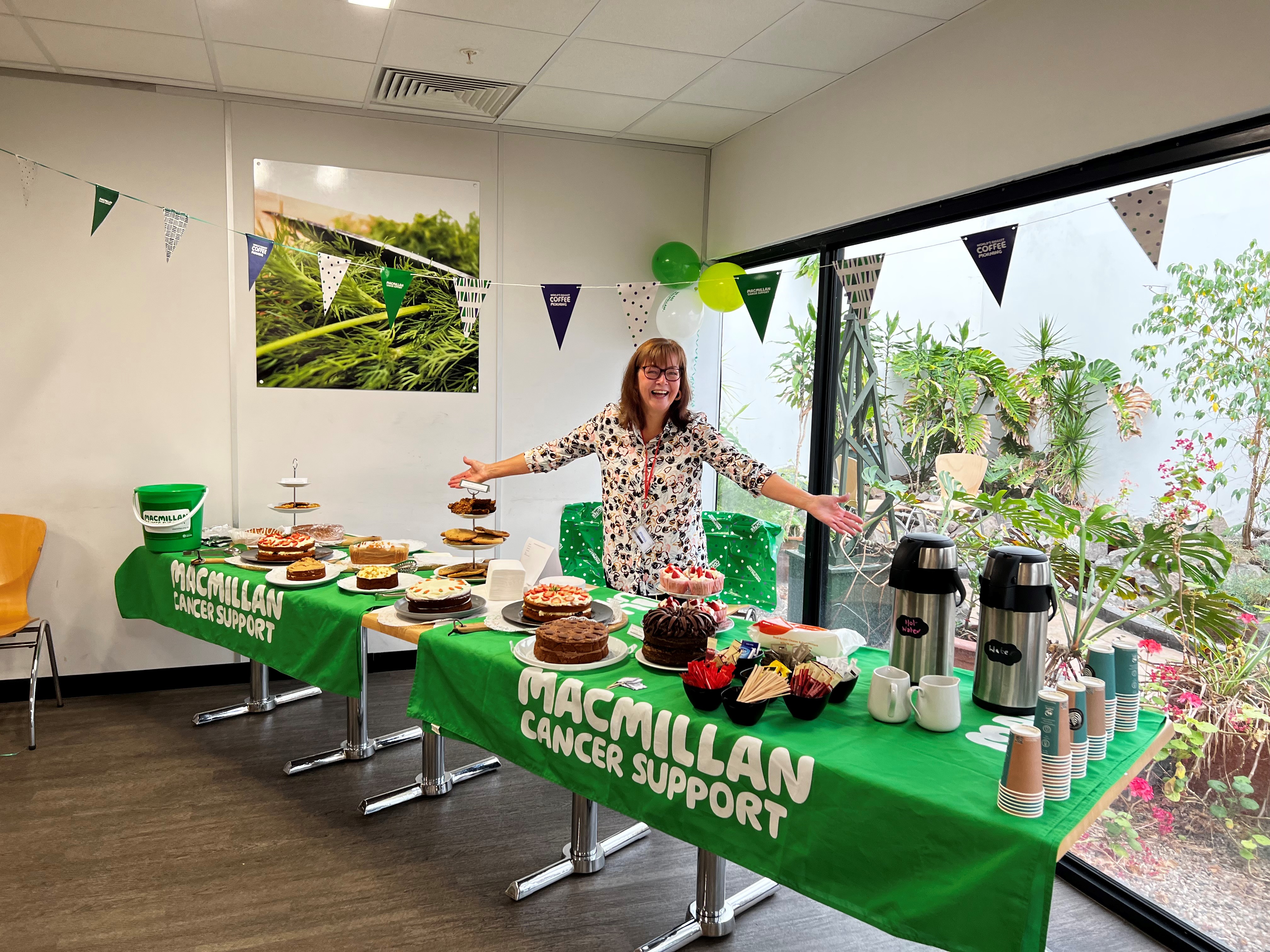 Last week, Ricoh UK Products Limited (RPL) took part in 'Coffee Morning' – the world's biggest coffee morning, in aid of Macmillan Cancer Support.
Macmillan Cancer Support is one of the largest British charities providing specialist health care, information and financial support to people affected by cancer.
At present, more than 3 million people in the UK are living with cancer and by 2030, this figure is expect to rise to 4 million.
According to the Macmillan Cancer Support website: "One in two of us will face cancer, and money raised at Coffee Mornings helps everyone with cancer to live life as fully as they can."
What is Coffee Morning?
The first Macmillan Coffee Morning took place in 1990 – as a small affair based on a simple idea: guests would gather over coffee and donate the cost of their 'cuppa' to Macmillan in the process. Since it launched, the annual event – which is ever-evolving – has raised over 290 million to support those living with cancer.
This year, employees at RPL were encouraged to make cakes and goodies, sweet or savoury, to share with colleagues on the morning of Thursday 29 September.
Staff thoroughly enjoyed the event, and the canteen was 'alive' with activity – it was the perfect chance to catch up with colleagues over a 'cuppa' and a slice of something delicious, whilst fundraising for a great cause.
Cakes and goodies at just £1 a piece included traditional Victoria sponge, chocolate orange cake, lemon drizzle, banana cake, as well as a variety of cookies, flapjacks and fruits.
A total of £145 was raised, which has been generously increased to £200 thanks to an additional contribution from RPL's 'Top Up' scheme.
Sue Timmins (HR), who helped facilitate the event, said: "It was a lovely response from the RPL family and a fun time for all – enjoying a break, socialising, and eating cake for a good cause!
"We're very grateful to Olive Catering for providing free hot drinks to accompany the cakes too."
Said RPL's Business Support Services Officer, Jessica Leek: "Thank you to everyone who supported the event – and a thank you to Receptionist, Sue Timmins, and Travel Administrator, Lily Jackson, for helping to coordinate and staff the 'Coffee Morning'."
To find out more about Coffee Morning and Macmillan Cancer Support, visit:
https://www.macmillan.org.uk/
| About Ricoh |
Ricoh is a leading provider of integrated digital services and print and imaging solutions designed to support digital transformation of workplaces, workspaces and optimize business performance.
Headquartered in Tokyo, Ricoh's global operation reaches customers in approximately 200 countries and regions, supported by cultivated knowledge, technologies, and organizational capabilities nurtured over its 85-year history. In the financial year ended March 2023, Ricoh Group had worldwide sales of 2,134 billion yen (approx. 16.0 billion USD).
It is Ricoh's mission and vision to empower individuals to find Fulfilment through Work by understanding and transforming how people work so we can unleash their potential and creativity to realize a sustainable future. 
For further information, please visit www.ricoh.com
© 2023 RICOH COMPANY, LTD. All rights reserved. All referenced product names are the trademarks of their respective companies.