RPL achieves PLATINUM accreditation rating for 14th year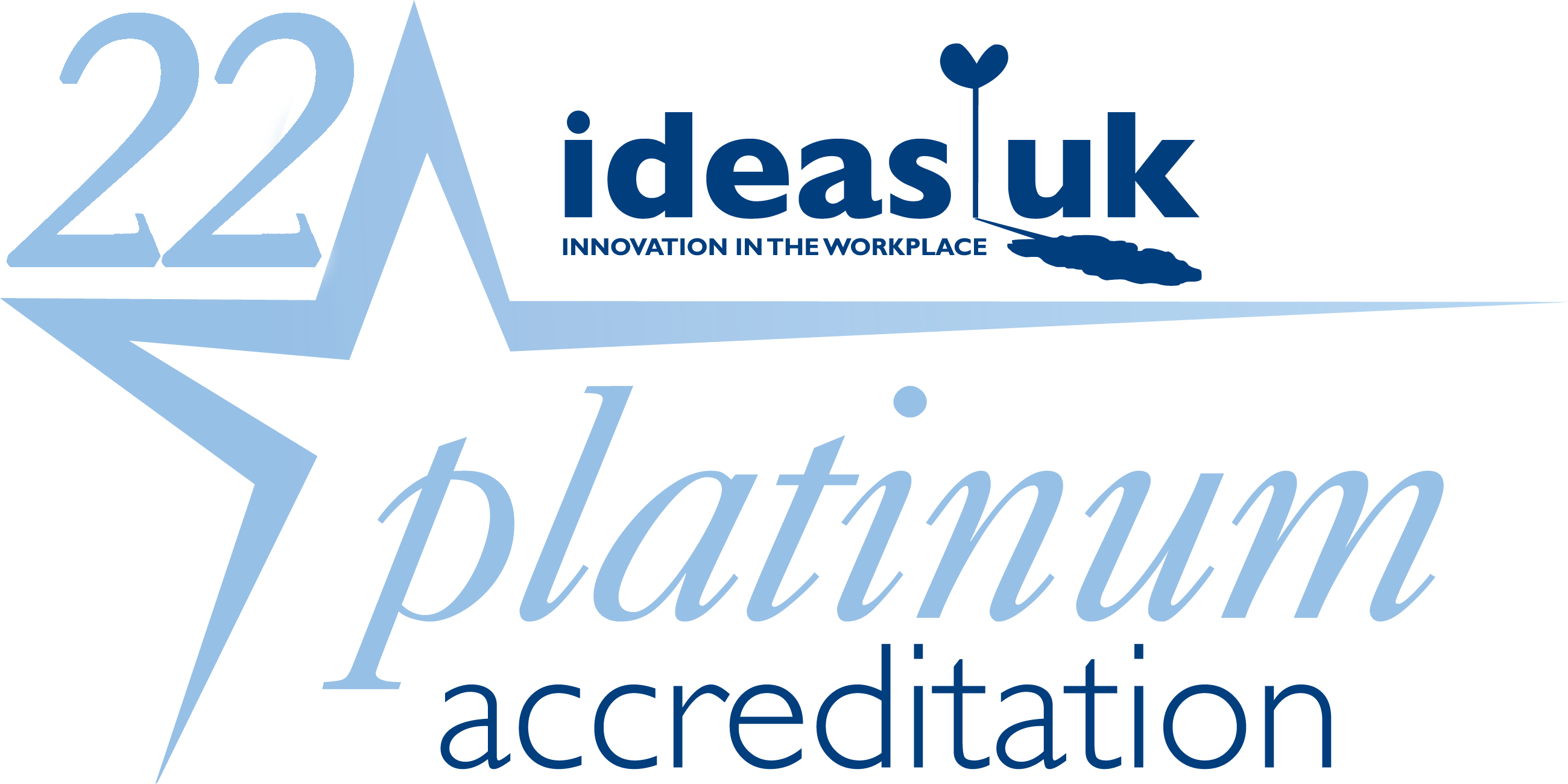 Ricoh UK Products Limited (RPL) is delighted to have achieved a PLATINUM accreditation rating from ideasUK for the 14th year – achieving the company's highest ever score.
The accreditation programme from ideasUK started in 2006 and provides a way for organisations to give both internal and external prominence to their employee innovation programme. 
According to ideasUK, "the accreditation process subjects your programme to an external assessment, followed by a report providing guidance on areas of strength and where to focus improvements. 
"The end-to-end review consists of 50 questions developed as a result of our long history working with innovation programmes and as of 2020 is now aligned to BS ISO 56002 to provide an added level of validity."
For an organisation to achieve PLATINUM, they must achieve points in a number of elements, giving a total achievement percentage of 90-100%. 
These elements include the following: Organisational Context, Leadership Commitment, Planning, Support – Resources, Support – People, Support - Communication & Publicity, Operational Process, Management Information, Performance Evaluation, and Continuous Improvement.
Previous winners of PLATINUM certification also are additionally awarded with a supplementary number to signify the consecutive years that the organisation has maintained excellence.  
The accreditation covers all the 'Reward & Recognition' programmes at RPL as well as Project Management. It shows not only the strength of involvement, but the strength of RPL's schemes in a wider scope, the full 'toolbox' measures all aspects of our programmes – from the planning, systems and processes to engagement and recognition, as well as how this is communicated to all employees.
RPL's review took place in September 2022 – and for the first time, the company achieved a platinum rating in every area of the evaluation. In fact, RPL was proud to boast an overall performance score of 96.40%. 
Zena Cox, Operations Director at ideasUK, who was responsible for the review, commented: "It is great to see the improvements you continue to make to the suggestion scheme and how the PMO has integrated to create an innovation ecosystem within Ricoh UK Products Limited.
"I am delighted to award you with a PLATINUM rating for the 14th year achieving your highest ever score and a PLATINUM rating in every area of the evaluation!"
RPL representatives will receive official certification at the ideasUK awards conference in November. 
RPL's Continuous Improvement Engagement Coordinator, Jayne Garner said: "It is an outstanding achievement to receive a PLATINUM rating for the innovation programmes, but to maintain that level for 14 consecutive years is something special. 
"Achieving this award is not only down to the running and maintaining of these programmes but to all the employees who engage with them so 'thank you' to you all and please continue to participate in improving RPL as a workplace and business.   
"This continual site-wide excellence and engagement makes RPL the number one ideasUK accredited organisation and is seen as best practice by other members."
| About Ricoh |
Ricoh is a leading provider of integrated digital services and print and imaging solutions designed to support digital transformation of workplaces, workspaces and optimize business performance.
Headquartered in Tokyo, Ricoh's global operation reaches customers in approximately 200 countries and regions, supported by cultivated knowledge, technologies, and organizational capabilities nurtured over its 85-year history. In the financial year ended March 2023, Ricoh Group had worldwide sales of 2,134 billion yen (approx. 16.0 billion USD).
It is Ricoh's mission and vision to empower individuals to find Fulfilment through Work by understanding and transforming how people work so we can unleash their potential and creativity to realize a sustainable future. 
For further information, please visit www.ricoh.com
© 2023 RICOH COMPANY, LTD. All rights reserved. All referenced product names are the trademarks of their respective companies.